Revolution is an easily applied monthly preventative treatment for fleas, ear mites, sarcoptic mange and heartworm. It can be expensive to buy the largest, most economical package. For this reason we make single ferret-sized doses (0.2mL for females, 0.25mL for males) available to our members.




Revolution is applied to the back of your ferret's neck and protects for an entire month. Re-apply the same time next month.





Doses applied directly by us are $2.50.

Doses which are taken home to use at a later time are $3.00 each (to cover the cost of the syringe & cap).

Members who return used syringes/caps when purchasing further doses pay $2.50 / dose.




You can purchase Revolution doses from Ferret Necessities online [shop.waffs.org.au]




Or to arrange to have your ferrets "Revolutionised" phone any of the following members:


Cathy in Greenwood - 9447 0996



Shona in South Guildford - 0428746620





Larger vials (2.0mL) are available for $17 each (plus postage if needed) for those with multiple ferrets. This includes a syringe for drawing individual doses, and instructions.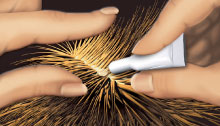 Application to the back of the neck.


For further information see www.revolutionpet.com.au








MENU